Gitblit 1.0.0: Java-basierter Repository-Manager ist fertig
Mit Gitblit 1.0.0 ist eine kostenlose Alternative zur Intranet-Version von GitHub zum Download erschienen. Dank seiner Java-Basis ist es auf sämtlichen Betriebssystemen lauffähig und steht damit auch in Konkurrenz zu Linux-orientierten Alternativen wie Gitiorious, Gitlab oder Gitolite.
Gitblit bietet:
einen zentralen Ort, um Repositories zu teilen
ein Web-Frontend auf Gitweb– und Twitter-Bootsrap-Basis
eine Verwaltung für Nutzer- und Zugriffsrechte
Zum Ausprobieren können Sie diesem Link zur Demo von Gitblit folgen.
Gitblit 1.0.0 wurde mit folgenden Updates ausgestattet:
LDAP integration
Expose JGit settings for configuration
Web/Manager editable, per-repository custom properties for Groovy hook scripts
Responsive layout in web ui to improve usability on tablets and phones
Fixes to Lucene search including eliminating duplicate entries and fixes to blob encodings
Added Spanish translation
Added Polish translation
Many small bug fixes
Update to latest Twitter Bootstrap
Update to JGit 2.0.0
Other dependency maintenance updates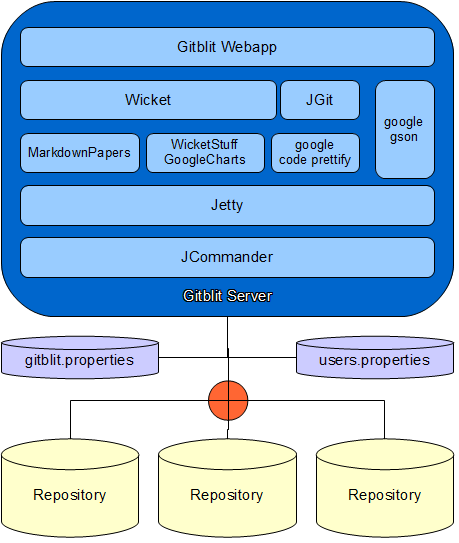 Architektur hinter Gitblit: Eine Webapp für sämtlche Repositorys
Die Geschichte des Projekts ist kaum ein Jahr alt. Sie begann damit, dass James Moger und seine Entwickler-Kollegen frustriert waren, ihre Fortschritte mit CVS, SVN und dem manuellen Vergleichen von Ordnern festzuhalten. Thomas Koch hat ihm einige Fragen zur Entstehung von Gitblit gestellt, die Moger in einem sehr lesenswerten Statement beantwortet hat:
While taking a break from Hg, I read more on Git and discovered that
Git and JGit both supported full http communications; Git didn't have
this feature last time I had checked. I also discovered the JGit team
implemented a servlet for serving Git repositories. When I learned
those two things I knew I wanted to create a pure Java Git http server
that was self-contained and included authentication & authorization.
I was actually surprised that no one else had already done this; it
seemed so obvious to me. 🙂
Zum Download von Gitblit gelangen Sie über die offizielle Website.